Ichiro
Admin/Site Owner/Hokage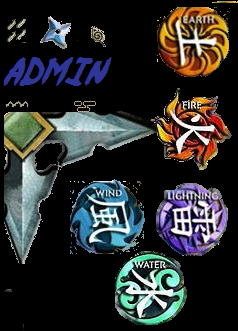 Posts

: 125


Join date

: 2010-05-08


Age

: 21


Village

: Village Hidden In The Leafs

Shinobi Info Card
Health:





(9000000/9000000)


Chakra:





(9500000/9500000)


Age: 18

Subject: SpLiT/sOuL Mon Jul 05, 2010 8:23 pm

---

SpLiT/sOuL is one of my manga idea's. One of my many, many, many... Anyways I have lot's of manga idea's. Like all of them fail because I usually focuse them on another. And if I published that mah would get sued. But I didn't focuse this one on another. I never know which of my Idea's I use so. I might quit updating it or I might not make it a manga but more of a story. Anyways here is the back drop of the story . Tell me if it is like another manga or anime if so I never seen it! XD. I will also have a section about Any Details or anything. ( Hopefully )

SpLiT/sOuL
Ichiro Kenta was a regular teenage boy. Had huge crushes,like's a variety of thing's, didn't do that good in school. But he can just chooses not to.
He can do great at things he finds interesting, like Fighting Culture's.He knew about ten fighting styles, but he only remembers five.
He knew everyone, but he couldn't preform them.
The reason he doesn't remember is because when Ichiro turned twelve him and his mom got hit by another car on their way to school..
Making Ichiro lose half of his memory. Also his mother died in the wreck forcing him to live with his dad..He Also had split personality's
He had five different personalities each one knew one of the fighting styles he could remember. The first personality, was a aggressive type.
He knew Tiger Style. They called him Fachtna reflecting on his Personality.
Then he had a girlish side. Not really girly but relaxed, and just talked like a girl. At that moment they called 'her' Atalanta. Meaning Balanced.
This personality knew Swan Style.
Then there was his side they called ' Kaname ' He was always serious, and got down to bussines. Didn't play around. This side knew Dragon Style.
This side's name means Vital Point.
Then there was ' Shun. ' His quiet side, at this time he didn't talk much. His name means Speed, Fine Horse. ( Horse's are Fast ) He knew Leopard Style
at this time.
His last personality side was ' Fanish ' Meaning King of Snakes. If you knew what his name meant you could geuss, that his style was Snake Style.
This side he is always rude.

But one day, he had a little problem. He had a lot of mood swing's. So like he changed every ten minutes. It like effected his brain and body, so much that
he had totally no control over his mind or anything. He heard voices in his head that were his other personalities. They kept arguing and fighting.
Actually fighting in his mind. That he kept changing every ten seconds, then it began to put a huge pain on his spirit.
Then it got shorter, every five seconds he changed. eventually he passed out, almost died. But then his spirit like collapsed. He didn't have any
thoughts or anything. So his soul was split by Death the Grim Reaper, while Ichiro was in his spirit form. Now Ichiro will owe Death someday.
For helping him out. Then Ichiro went to the hospital, after his father found him unconscious. The doctor said that he was alright and that
he just thought he passed out. The following day's Ichiro never changed over to another personality. And when he was unconsciousness or asleep
he had a link with Death.....